Cyan is the highest performing COTS SDR available.
Providing simultaneous support for up 16, fully independent, transmit or receive radio channels, each with a standard 1 GHz of RF bandwidth and support for up to 3 GHz, and up to 16 bit converters, this flexible platform can tune from near DC to 18 GHz. The digital throughput includes four 40GBASE-R qSFP ports to quickly receive and transmit radio data with an option to upgrade to four 100GBASE-R.
Different options are available for Cyan to enable higher bandwidth. This includes:
Cyan HB (high bandwidth): provides 3 GHz sampling bandwidth per radio chain and 4 x 100 Gbps of digital backhaul
All configurations of Cyan can also be paired with one of our host and storage solutions for recording, storage, analysis, and playback.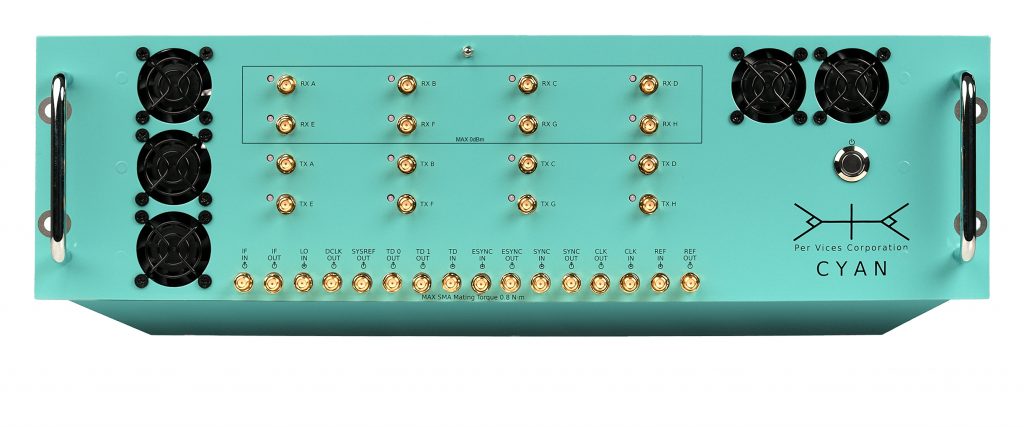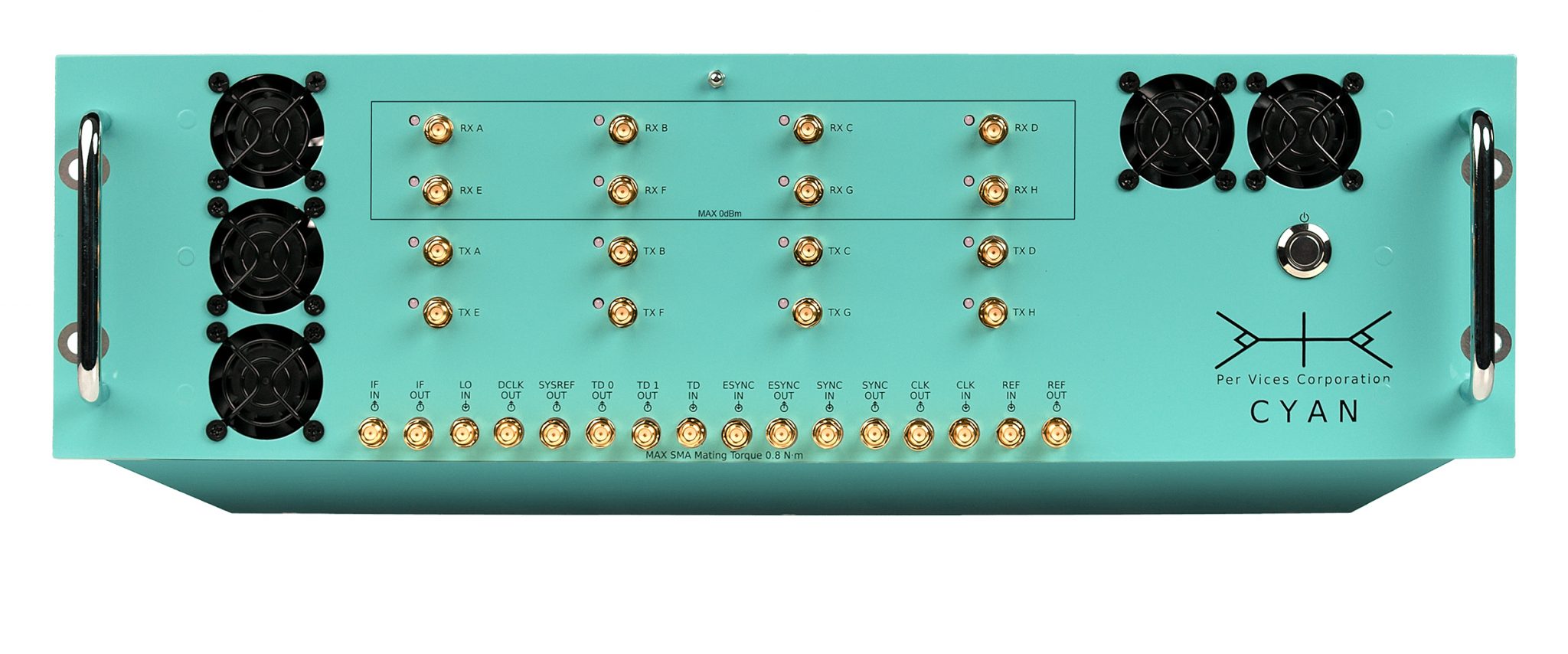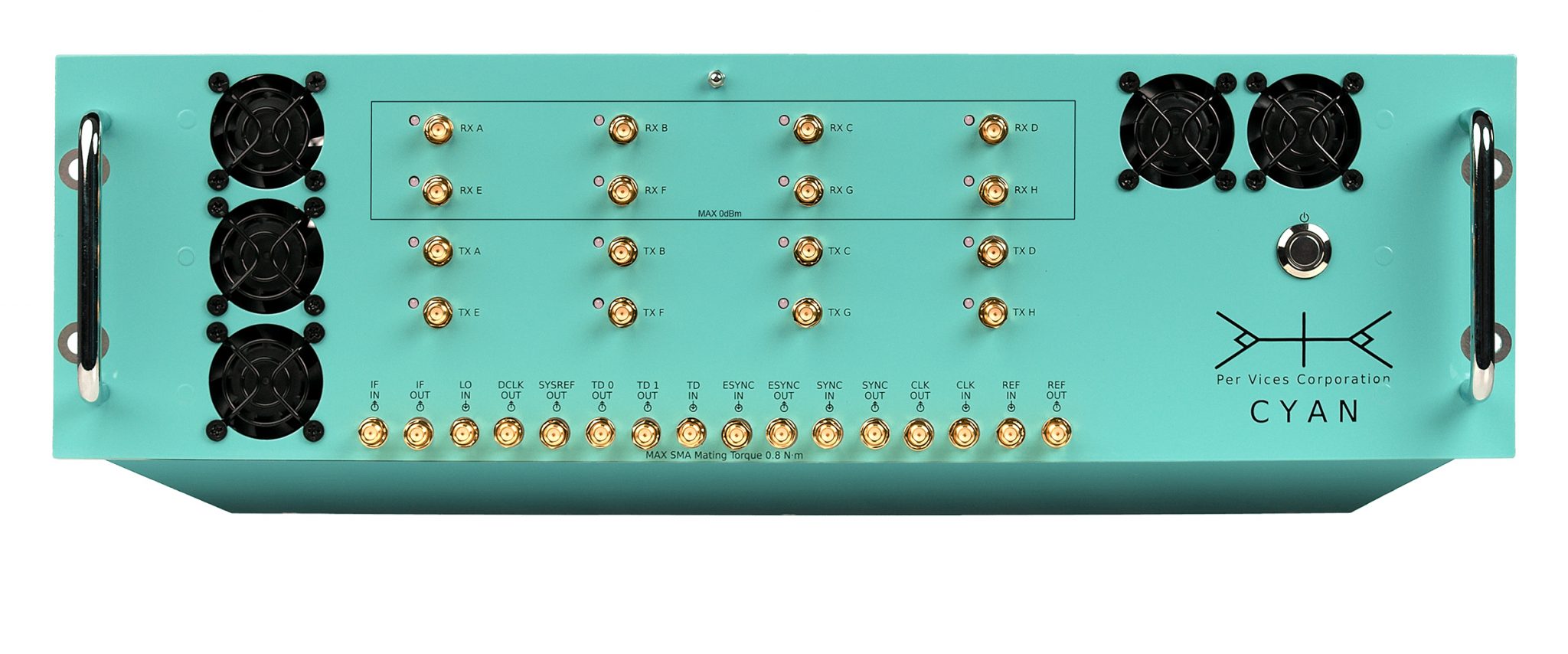 High Bandwidth
The high bandwidth option for Cyan enables each radio chain to operate at 3 GHz of bandwidth per radio chain with 12 bit resolution. This opens an entirely new realm of possibilities with unmatched RF performance.
Since the radio front end of this configuration is able to sustain a very large amount of data, we have also increased the digital throughput to and from a host system or other equipment. With Cyan HB you can also transfer at rates up to 400 Gbps through 4 x 100GBASE-R qSFP+ ports.
The Cyan HB product option provides the absolute best performance for customers who require very high bandwidths for a variety of applications including spectrum monitoring, recording, and testing, and test and measurement.
Specification

Cyan

Up to 161 any combination of Rx and Tx

Bandwidth per Radio Chain

4 x 40GBASE-R; 160 Gbps
or 4 x 100GBASE-R; 400 Gbps3

19" 3U
482.6 mm x 402.0 mm x 133.0 mm
6.2 kg
Cyan can be ordered as a basic SDR with different channel configurations, with the extended channel, or high bandwidth options. Kits and host & storage solutions are available. 
For more information on configurations and prices go to our Pricing page. 
Per Vices offers a custom number of channels and configurations. Try our BYOSDR tool to get an estimate for your parameters. 
KIT OPTIONS – As Requested
SMA Cables
qSFP+ Cables
Compatible 40/100G NIC (PCIe)
Connect with one of our specialists to develop the right product for you.